For today's yacht and jet owner looking to make updates, only the finest interior architect will do. For many, that person is Nicola Fontanella, founder, CEO, and the creative force behind Argent Design, an interior design firm launched in 1997, right before she turned 30. The British-born designer to such notables as Madonna and Naomi Campbell brings not only a unique design sensibility to her global roster of clients, but also a thorough understanding of the client briefs and the unique technical requirements needed for these superluxe projects.
Her unique skills have led her to become one of the interior design world's most sought-after designers and visionaries. We sat down with Fontanella, whose firm also has offices in the U.S. and Australia, to talk about yacht trends, why every design detail matters, and why she absolutely loves her job.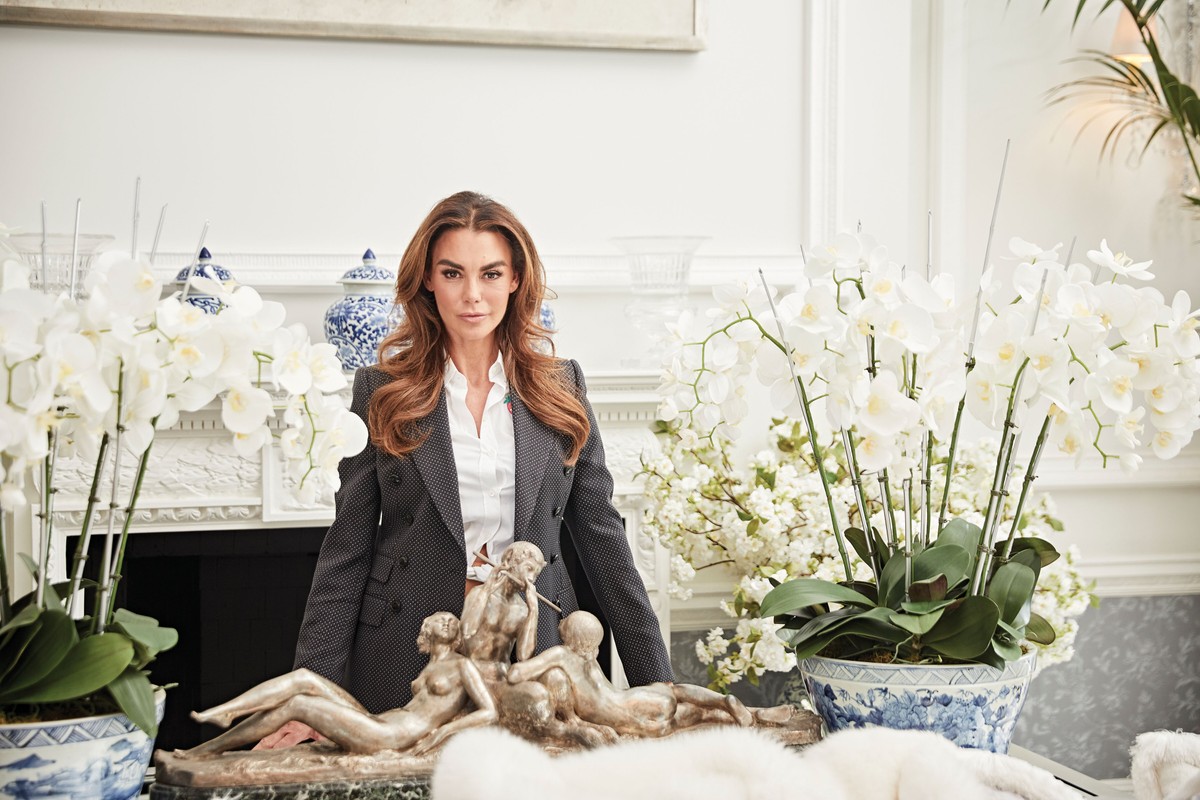 According to Nicola Fontanella, clients put entertaining and multiuse at the top of their list of priorities when it comes to yachts.
What are yacht owners seeking when it comes to design?
Over the past few years and, especially last year, we've seen a big move away from a traditional formulaic layout. Instead, our clients want much more of an open plan and an indoor-outdoor experience.
What's a recent example of this?
We recently completed work on a 63-meter boat for our client. Since the first yacht they commissioned, the family has grown and has three young children. They wanted us to design more multiuse spaces and outdoor lounges rather than multiple salons.
Are yacht owners spending more time on their yachts than they were before the pandemic?
Entertaining and multiuse has been at the forefront of a lot of our clients' design goals. In other words, they want a way for luxury to meet practical living, with owners spending longer summers and more time onboard. We're also seeing that they want interiors that are lighter and brighter than the yachts of 10 years ago. We are now future proofing our designs to allow for flexibility in both the interior elements and also with our ever evolving technology.
You explain on your website that designing yachts and jets requires a thorough understanding of their "unique technical requirements and constraints." Can you tell us more about this?
Understanding how owners live on yachts and how a yacht functions is the backbone to creating a harmonious and seamless interior.
Storage is key and this translates throughout the yacht's interior with every item onboard having a specific location. This is the same with both yacht and jet design, including even the most specific detail where each glass has a specific holder in the cabinet. Our clients expect this level of detail.
How does your aesthetic change depending on the client or project?
I see this as a two-way partnership between the client and the designer. It's a journey where we spend time at the start creating a story and a signature for the interior so that the language of the design flows seamlessly. It's not always noticed but it plays a key role. This language is in the door design and the bespoke door handle which will tie in with the joinery metalwork detailing, all the way through to the napkin rings on the dinner service.
As we emerge from the pandemic, what are your clients asking for most in terms of their home's design?
The most important trend we're seeing is that clients want multiuse rooms. Kitchens are now clubrooms and studies now serve as both libraries and homework rooms. We're also seeing a big shift where homeowners want to convert rooms into other spaces by simply opening a large pocket door. This is a way to take two to three rooms and create one larger open-plan space. There is also a big push for future technology and air purification which we integrate into our stunning concealed ceiling details.
Since you started Argent Design, what has changed the most and what has stayed the same?
Argent has grown to become a multidisciplinary and international design agency. It's our eye for detail, in fact, that has set us apart. The signature of a truly world-class interior is the detail, from the inlay carved trims, to the metalwork framing of a door, through to the piping on a sofa. For a project to really sing, each element needs to be harmonious.
What's the best part of this work?
I've always seen myself, and therefore Argent, as constantly reinventing itself. For me, this is the most fun part. For example, we can take a material we have used for years and explore new ways to finish it, such as adding a marble, leathered, or hammered finish to totally change it into something new. This pushes me day in and day out and helps me always look forward to the next project.
This article originally appeared at https://www.sothebysrealty.com/eng/designing-woman-october2021