CONTEMPORARY LANDSCAPES, PARTY BARNS, AND BESPOKE HOME COCKTAIL BARS ARE ALL THE RAGE
Landscape painters are telling stories that reach far beyond stars, sky, and sea; backyard barns are playing host to elaborate get-togethers; and custom cocktail bars are serving drinks in style at home.
Here are the latest trends in art, architecture, and design.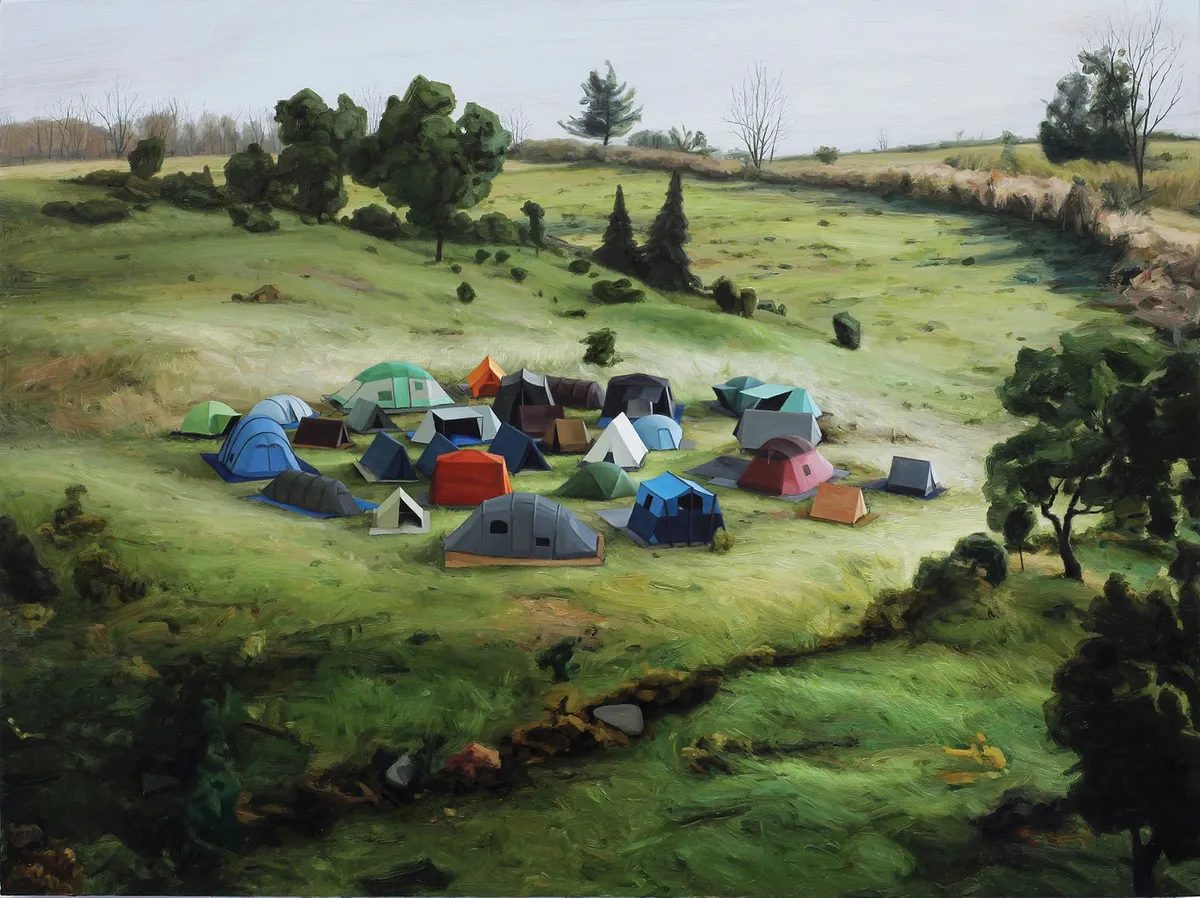 Amy Bennett's Camp, 18 by 24 inches, oil on panel, 2020.
Photo Credit: Chris Snook Photography
ART
In the hands of contemporary artists, landscapes—which for centuries have served as voyeuristic travelogues of exotic locales—are pushing traditional boundaries.
From edgy scenes to outright abstractions, these new works have become settings for imaginative interpretations and narratives that allow viewers to see the world in a vastly different way.
Amy Bennett, whose studio is in Cold Spring, N.Y., sees herself as an omniscient narrator, an explorer not of the geographic terrain but of inner themes such as "isolation, family, time, and the difficulty of knowing and relating to one another."
Her works, which she says offer a "God's eye view," start with a realistic miniature 3-D model that serves as a still life as well as a stage set.
For Small Changes Every Day, a 48-inch by 60-inch agrarian-themed oil painting, she created an eight-square-foot model that ultimately featured over 500 structures that she cut out of wood and painted by hand.
The models, which she often takes apart so she can reuse pieces for future works, allow her to control everything from lighting and poses to colors and to remove walls and "peer into places I don't belong."
Bennett's inspiration, for the most part, comes from her own life and observations, including things she has read and watched. "The scenes usually percolate in my imagination," she says.
She's more interested in depicting a scene that makes viewers wonder than in painting a setting purely for its aesthetic appeal.
A cocktail bar by Emma Green Design
Photo Credits: Galleri Magnus Karlsson, Stockholm
ARCHITECTURE
Bespoke backyard barns, which are being built to host big events as well as private parties in primary residences, are expanding the concept and physical boundaries of the traditional family room.
"They serve multiple uses," says Daniel K. Glick, founder and partner of B&D Builders, an award-winning barn-building company based in Paradise, Pa. "People are drawn to spending time in a barn structure because of the inherent feelings of comfort and relaxation the atmosphere naturally provides."
He notes that the company's barns, which typically are made of Douglas fir, include accent beams, wall paneling, and furniture crafted from reclaimed wood. They also feature hand-forged hardware, and are used for everything from large-scale charity events to family reunions and weddings to yoga studios, basketball and tennis courts, and art studios.
In some cases, existing barns are renovated. For a private historic estate in Chester Springs, Pa., B&D Builders was commissioned to reimagine a working barn as an events space that features heated floors, a full kitchen, restrooms fashioned out of old horse stalls, a guest suite, a bar, several seating areas, and fireplaces.
The trend for party barns, Glick adds, took off in high gear when people were forced to stay home during the pandemic.
"Typically, they are a labor of love for the owners," he says. "And we end up being invited to the first big event, which is always fun."
DESIGN
Sophisticated and glamorous, the bespoke cocktail bar has taken up residence in the private abode.
"Clients want the option to entertain more from home without forgoing the fun or luxury of a night out," says Emma Green, whose namesake interior design firm is based in London. "They are using them to reward themselves with a drink at the end of a stressful day or busy week and as a reason to have their guests in their best room, which is often the living room, and to create something of a spectacle."
The cocktail bars offer sparkle power to new and old homes alike. Outfitted with illuminated mirrors and glass shelves that showcase glittering collections of cut-crystal bottles and drinks glasses, they are comfortably inhabiting alcoves, including those on each side of the fireplace, and hallways adjacent to public rooms.
"I tend to design the bars to be a feature in themselves," Green says. "Who wants to hide a gorgeous cocktail cabinet away?"
Called into action for before-dinner aperitifs and after-dinner cocktails, they often feature a refrigerator/freezer that promptly produces ice cubes as well as a small sink for washing all those lemons.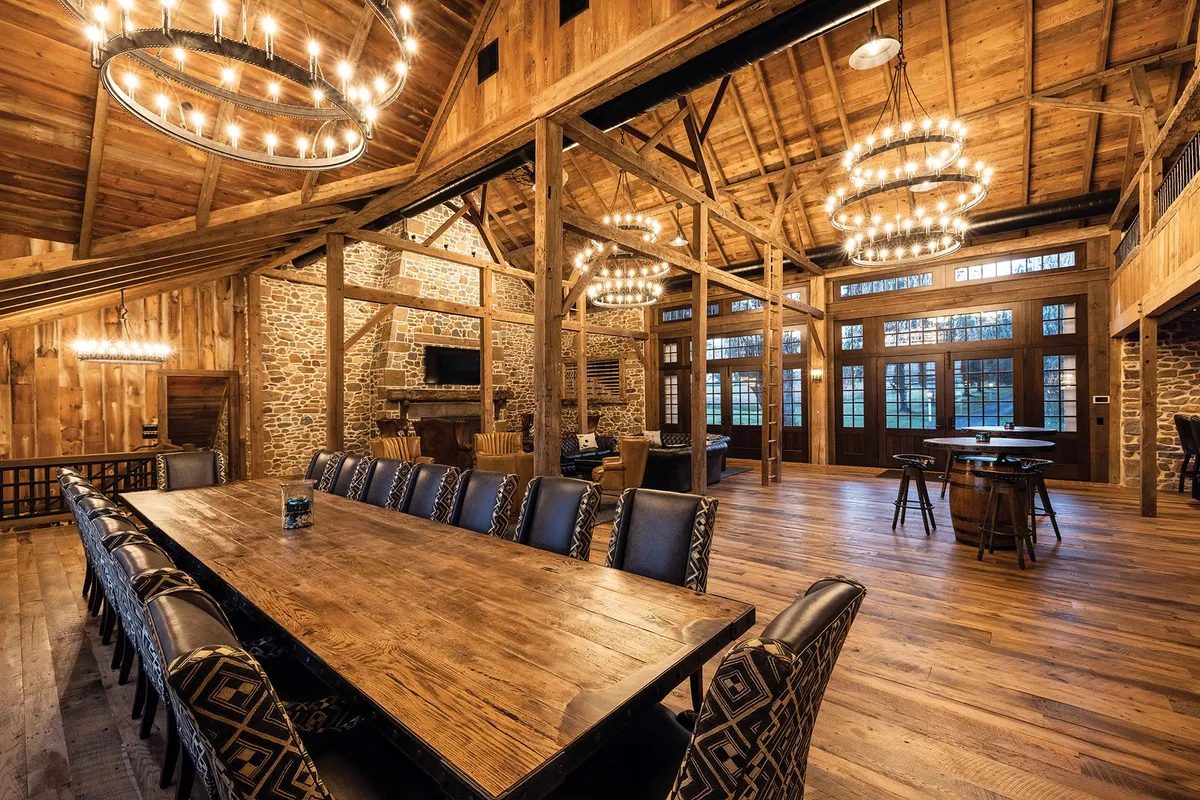 A barn renovated by B&D Builders.
Photo Credit: Jana Bannan Photography