The humble bowl of soup is practically synonymous with comfort food, but it has more culinary refinement than it gets credit for.
Whether you're looking for the breadiness of a French onion soup, a full-bodied ramen, or a silky pho broth punctuated with cinnamon and ginger, there are plenty of bowls to belly up to with these city standouts.
EGG DROP SOUP AT KINGS CO IMPERIAL, BROOKLYN, N.Y.
If you look up the "best egg drop soup in Brooklyn," Kings Co Imperial pops up on Yelp, and for good reason. The flavor of this heaping bowl is a testament to the TLC it got in the kitchen, and hours of simmering. The result is a marriage of flavors with perfectly fluffy, fatty egg yolks melted into a salty broth with a hint of umami sweetness from the sesame oil mixed in with a subtle spice of Chinese greens.
FRENCH ONION SOUP AT PISTACHE FRENCH BISTRO, WEST PALM BEACH, FLA.
The last place in the world one might think to order a crock of French onion soup may be outside on a patio deck in South Florida, but take our word for it—you won't be sorry. This lively West Palm Beach bistro with an ambience reminiscent of Manhattan's Parisian-inspired icon Pastis comes with a summer breeze year-round, and a crowd that trades in Manolo Blahniks for flip flops. The gooey gruyere melts over the bowl of Onion Soup Gratinee exactly as it should, giving way to a silky, onion-soaked broth that's not too salty. The prize? Chewy bits of baguettes soaking it all in.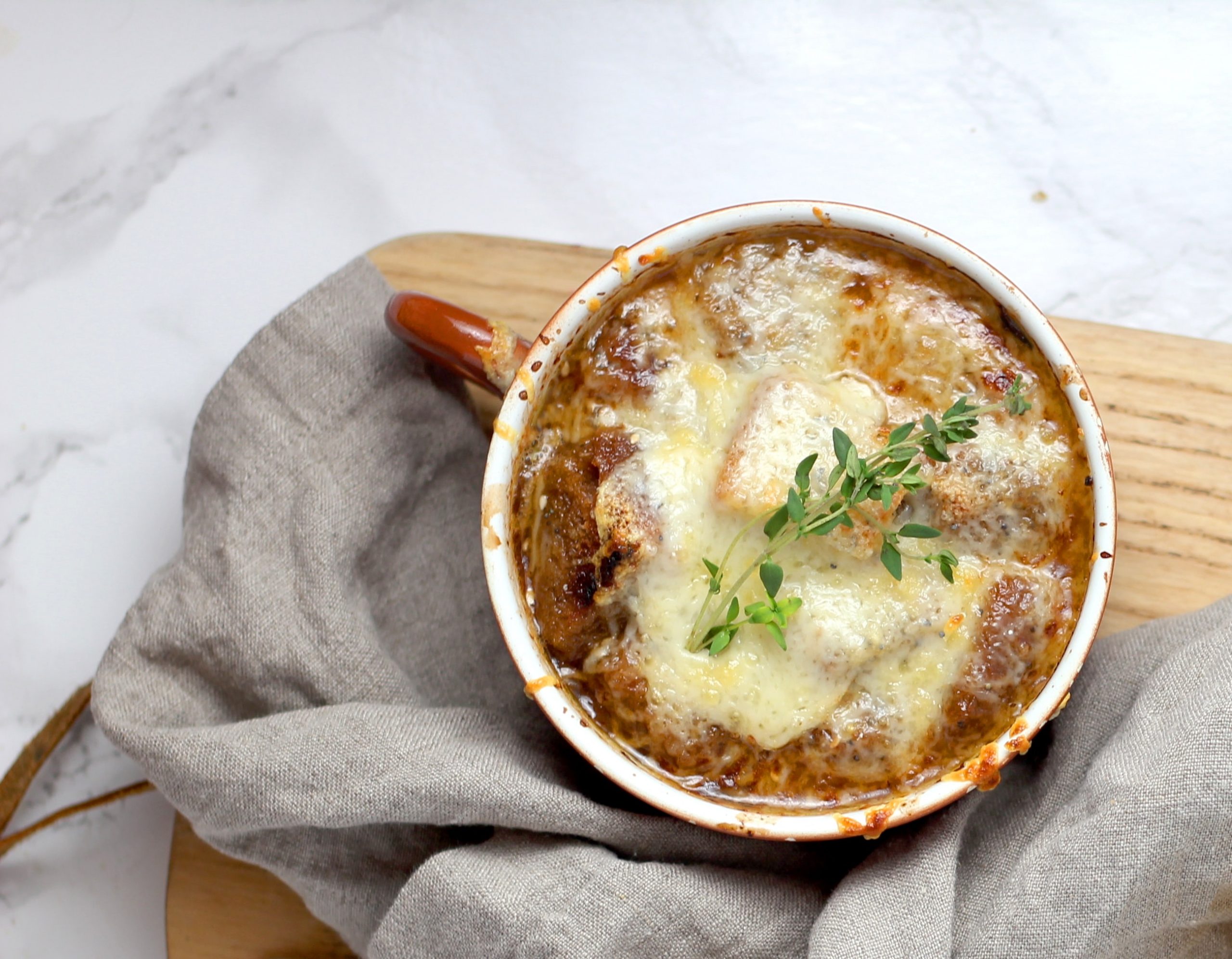 French onion soup is hard to beat on a winter's day—or any time of year, really.
PHO AT PHO BINH TRAILER, HOUSTON
Pho fans will enjoy this original recipe that originates from Hanoi in Vietnam. The handmade rice noodles have a hint of sweetness balanced with lively herbs and a beefy flavor that give the broth a rich texture. But any pho fan knows what makes this noodle soup sing is the integrity of its broth—clear and fragrant with notes of star anise, cinnamon, and ginger.
RAMEN AT IPPUDO, SAN FRANCISCO
If you're going to San Francisco—and you arrive jet-lagged, or simply seeking feel-good comfort food, you may want to make Ippudo your first stop. This Japanese ramen restaurant chain with global outposts in Asia, Europe, and Australia stays consistently delicious. You can't go wrong with the original "Tonkotsu" pork broth with the restaurant's signature dashi, thin noodles topped with Japanese-braised pork belly, sesame kikurage mushrooms, menma (a Japanese condiment made from lacto-fermented bamboo shoots), red pickled ginger, and scallions. For an even more explosive flavor, consider the Karaka Spicy, which blends pork broth with hot spices. Khao Soi at Soi, SeattleKhao soi, the rich and spicy dish typically served as a soup, stew, or noodles in Laos and northern Thailand is the star at this casual Thai restaurant in Seattle's Capitol Hill neighborhood. It combines coconut milk, curry, egg noodles, and a hint of lemon grass—perfect for sipping on a rainy day.
MATZO BALL SOUP AT PASTRAMI QUEEN, MANHATTAN, N.Y.
Pastrami may be the namesake of this New York City kosher deli staple with two locations, but the matzo ball soup carries its own weight, anchored, of course, by its matzo balls. It's served with two moderately sized dumplings with fresh dill and egg noodles in broth.
CLAM CHOWDER AT UNION OYSTER HOUSE, BOSTON
No trip to New England is fully complete without a cup, or bowl, of clam chowder. This one happens to come with a spoonful of history: The restaurant claims to be the oldest in America, and is on the Freedom Trail. This creamy medley of clams and salty oyster crackers taste like summer all year round. Upgrade to a bread bowl to soak up all the chowder.