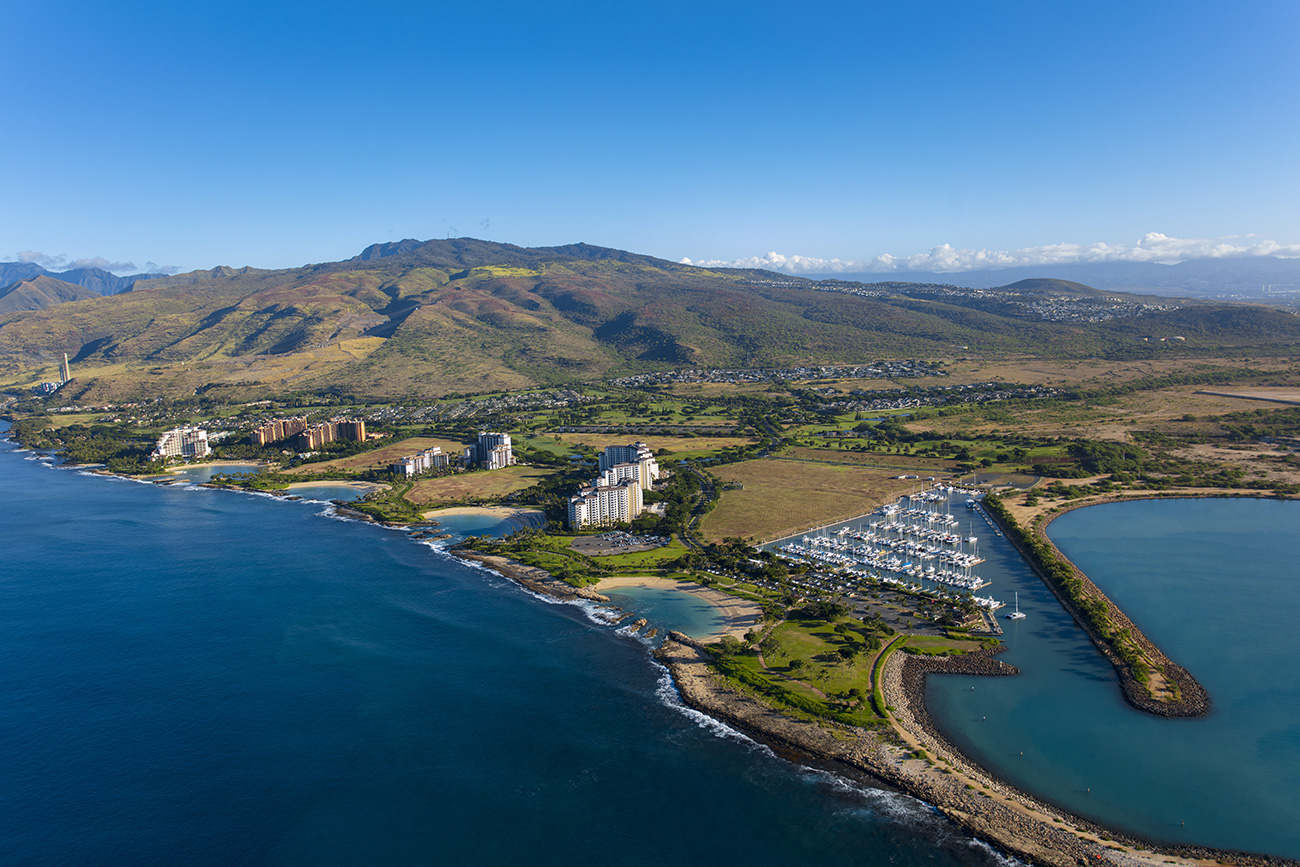 The Oahu housing market ended 2021 with a slight decline of 10.0% in single-family home sales and a healthy 15.4% increase in condo sales year-over-year. The median sales price for single-family homes tied the previously set record in August 2021 at $1,050,000, while condos saw a median sales price of $485,000, slightly up from December 2020.
While Oahu's single-family home market saw new listings, pending sales and total inventory in escrow all drop year-over-year, the condominium market remained strong, with new listings up 13.1%, pending sales jumped 16.7% and total inventory in escrow rose 11.5%.
2021
In 2021, total Oahu sales were up an impressive 37.3% from 2020. Single-family homes saw a substantial 17.9% increase, and condo sales roared back, ending the year up a whopping 53.1% compared to 2020. The median percentage of the original list price received reached 102% for single-family homes and 100% for condos. This means more than half of single-family home sellers received more than their original asking price, and at least half of condo sellers received their full asking price or more. The year-end median days on the market was a mere nine days for single-family homes and 12 days for condos.
In line with the year-over-year double-digit price increases that dominated most of 2021, the single-family home annual median price rose 19.3%, ending the year at $990,000. One year ago, the annual median sales price for single-family homes was $830,000. In 2021, 60.8% of single-family homes sold over the asking price, compared to 31% in 2020.
The $700,000 to $999,999 price range made up the bulk of single-family home sales at nearly 40%; however, most sales increases were seen at the higher $1 million and up price points. Properties sold in the $1,000,000 to $1,499,999 range were up 84.5%, homes that sold in the $1,500,000 to $1,999,999 range were up 95.6%, and homes sold at $2,000,000 and above more than doubled, up 145.5%.
The $400,000 to $499,999 price range made up 18.4% of condo sales in 2021, and the year ended with an annual median sales price of $475,000, an 9.2% increase from the 2020 median of $435,000. Like the single-family home market, condos in the higher price ranges saw more than double the sales. Condo sales in the $600,000 to $999,999 price range increased by 114.6%, and condos sold at $1 million and above increased by 162.0%.
The increase in demand for condos caused supply to drop to astonishingly low levels, driving competitive activity in some areas. In 2021, Oahu condo market saw 36.8% of properties sold over the original asking price, but numerous regions saw over 50% of sales close over asking.
Courtesy of the Honolulu Board of Realtors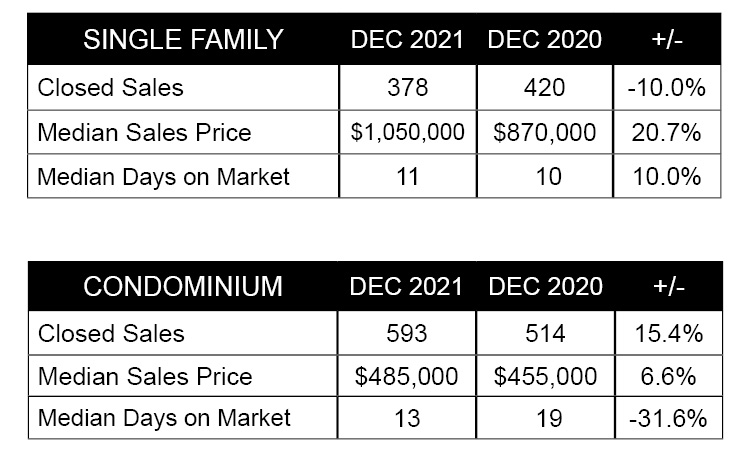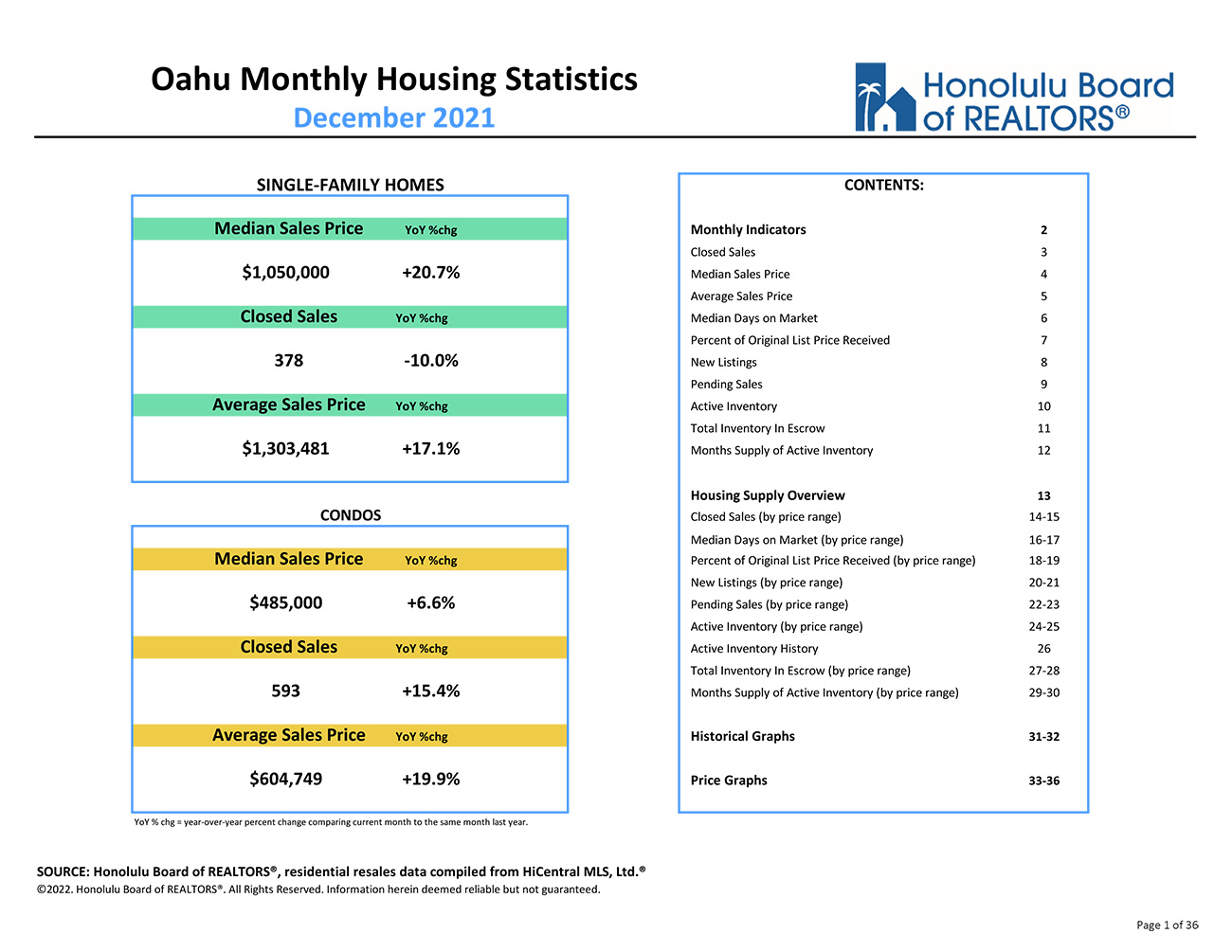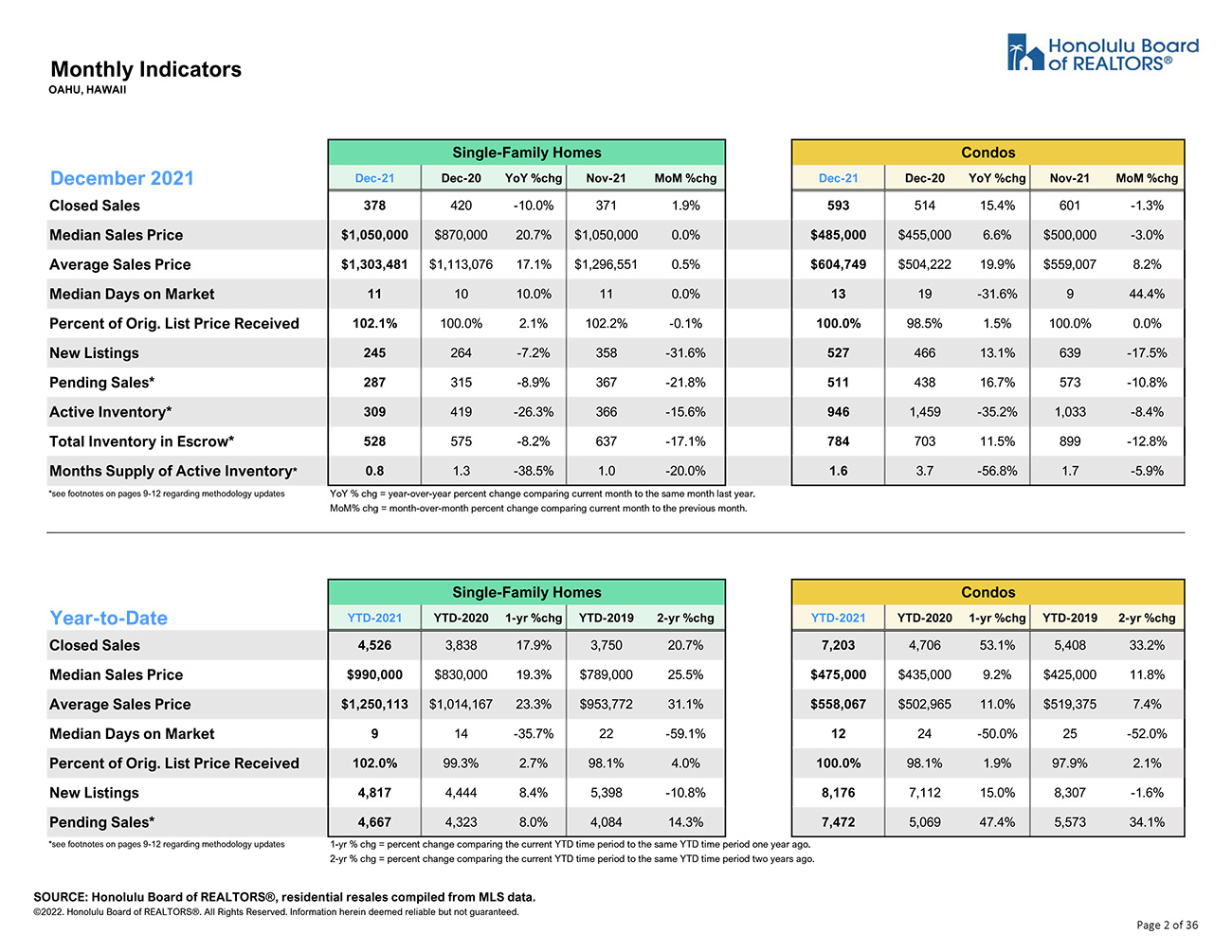 Go to Market Report Top Page >
Don't Miss Our Next Post
Subscribe Now