SUVs, especially crossovers, remain hugely popular with American buyers, making up half of sales; with pickups included, it was 76% in 2020. And increasingly luxury buyers want their SUVs to have three rows of seats and accommodate six or seven passengers. In fact, there were at least 40 three-row models on the market in 2021.
Unfortunately, some of the crossovers skimp on space for the third row. And access is sometimes not great. The larger SUVs, reviewed here, have better accommodations in what used to be called "the way back" when station wagons were king.
Here's a closer look at some high-end third-row models:
AUDI Q7
This is one of the sportier three-row luxury SUVs, with two turbocharged engines to choose from: a 248-horsepower four cylinder or a 335-horsepower V-6 (coupled to an eight-speed automatic). They all have Quattro all-wheel drive, and both four-wheel steering and adaptive air suspension are optional. The executive package is a useful addition, adding adaptive cruise, lane-keeping assist, and four-zone climate control, plus heated and ventilated front seats (the rears are just heated). There is 69.6 cubic feet of cargo area behind the front seats.
BMW X7
Consumers can opt for a perfectly adequate 335-horsepower turbo six, but they can also go over the top with 612 horsepower in the Alpina XB7 V-8 variant. Expect plenty of luxury features, including heated seats, a panoramic sunroof, a digital dash panel, and a 12.3-inch touchscreen. The third row (accessed by moving the power-operated second row) could be more commodious, but the other seating is thronelike. There is 90.4 cubic feet behind the first-row seats, but if you leave all three rows in place there won't be a lot of cargo area in the back (12.8 cubic feet).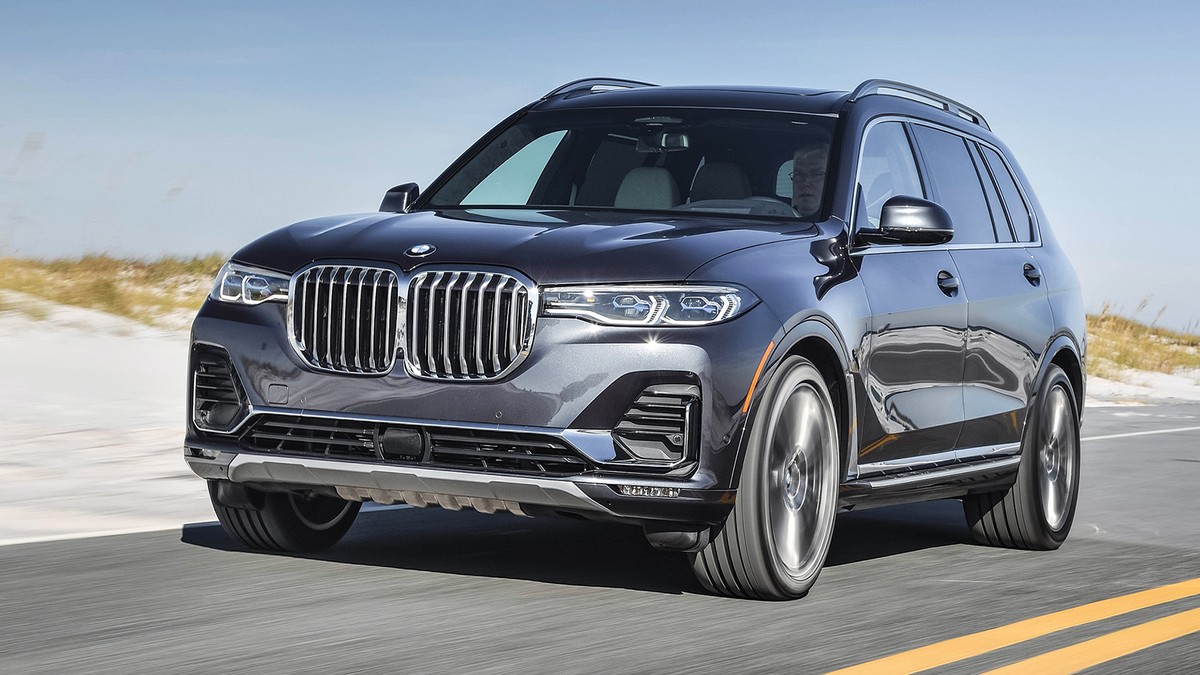 The BMW X7 has thronelike seating upfront.
Photo Credit: BMW
CADILLAC ESCALADE
The big Escalade was redesigned for 2021, and buyers can choose between a standard model and the long-wheelbase ESV that offers more room for the third row. Either way, you'll be swathed in wood and leather, traditional touches that contrast with the state-of-the-art infotainment and digital displays. Most Escalades will be powered by a 6.2-liter, V-8, but General Motors also makes a three-liter turbo-diesel six available. SuperCruise autonomous driving isn't available on the 2022 model, because of the chip shortage. The top-level Sport Platinum model costs more than $100,000, but it adds 16-way power front seats with massage, soft-close doors, and a 36-speaker AKG sound system, plus self-parking, adaptive cruise, and head-up display. There is a large 109.1 cubic feet of cargo space.
INFINITI QX80
This ultraquiet V-8 flagship for the brand was updated for 2021, with seating for eight. Highlights include semianiline leather seats, a suede-type headliner, dark burl wood, and 22-inch wheels. There's 95.1 cubic feet with the second and third row folded, and the ability to haul 8,500 pounds. That third row folds electrically, though the process is slow.
LEXUS GX
The name Lexus doesn't shout "off road," but the GX—with body-on-frame construction and adjustable suspension—is quite capable where the trail ends. The four-wheel drive is always on, with a trade-off in fuel economy (just 16 miles per gallon combined). The one engine is a 4.6-liter, 301-horsepower V-8. The GX may be rough and ready, but it's quiet and refined inside, with a wood-and-leather ambience. There's a cargo capacity of 64.7 cubic feet behind the first row.
The Lexus GX is quite capable off-road.
Photo Credit: Lexus
MERCEDES-BENZ GLS
The GLS receives kudos for its very accommodating third row. Your Boy Scout troop will be smiling when they arrive at the Merit Badge awards. Redesigned for 2020, the GLS now has a high-performance variant, the $133,000 twin-turbo AMG GLS 63 S, with 600 horsepower. But all the GLS models are capable and luxurious. The base GLS 450 model is equipped with a 362-horsepower turbo six with a nine-speed transmission, all-wheel drive, adaptive air suspension, heated and ventilated front seats, a sunroof, and other amenities. Captain's chairs are optional, but reduce the passenger cabin to six passengers. There is a maximum 84.7 cubic feet of storage.
The Mercedes-Benz GLS was redesigned for 2020 and has a spacious third row.
Photo Credit: Mercedes-Benz
RANGE ROVER
"We sell vehicles that people connect to on an emotional level," chief creative officer Gerry McGovern said at the introduction of the all-new, fifth-generation 2022 Range Rover in New York. The Land Rover brand's No. 1 market is the U.S., and that suggests certain capabilities. Not only does the Range Rover offer a roomy third-row seat in long-wheelbase models, but there's also a pair of fold-down perches for tailgating or tea parties. Choose the Tailgate Event Suite and there is added audio features and lighting in the back, as well as tailored leather cushions. The powertrain options include a 523-horsepower twin-turbo V-8 and a 423-horsepower plug-in hybrid (arriving as a 2023 model). The battery electric Range Rover, on the same platform, arrives in 2024. Cargo space behind the first row in the long-wheelbase model is a very credible 92.9 cubic feet.
VOLVO XC90
Volvo is heading for an all-electric future, and these days its gas engines all have four cylinders. There are three of those available, including a 400-horsepower T8 plug-in hybrid with two electric motors and 18 miles of all-electric range. This is one of the safest vehicles on the road, with a five-star crash rating. All the accident protection adds weight, but the PHEV drivetrain still attains a 27 miles per gallon combined fuel economy rating. The XC90's interior is lovely and functional. The higher Inscription trim, worthy of a check box, adds Nappa leather massage seats, Harman Kardon audio, digital gauges, and lane keeping. There's also excellent cargo space at 85.7 cubic feet behind the first row.
This article originally appeared at https://www.sothebysrealty.com/eng/supersize-suvs-february2022