By Iyna Bort Caruso
As if we need another reason to love life at home, the home bar is enjoying a renaissance. Haute happy hours are the new splurge.
For decades, home bars have routinely taken over basements, displaced spare bedrooms, and usurped garages. But they've evolved, says Deirdre O'Connell, chief executive for Daniel Gale Sotheby's International Realty in Cold Spring Harbor, N.Y. Bars are enjoying greater prominence in our homes. "They've moved from the basement to the main level," she says. They're now front and center in living rooms, family rooms, and busy hallways.
Imbibing in style starts with imbuing the space with warmth and hospitality. Some home bars channel the vibe of a favorite lounge, taproom, or saloon. Others take design inspiration from their surroundings. On the Gold Coast of Long Island, N.Y., the sophisticated yet welcoming bar of a Cold Spring Harbor estate is an open-concept entertainment destination. It includes a glass-enclosed wine room, home theater, card table, pool table, and even a massage room. "Anything you need to be entertained is there. It's extraordinary," O'Connell says.
Regardless of whether the aesthetic is playful, whimsical, retro, or dramatic, the goal is the same: to create a functional, flexible, and inviting spot to wind down with a glass of wine after a long day, or entertain a roomful of guests with their drinks of choice.
Good design enlivens the space, elevates the experience and is "reflective of lifestyle," O'Connell says. "And that's even more important now, when home has become a destination as opposed to just the place to lay your head."
HARDING TOWNSHIP
NEW JERSEY
Beechwood is a 30,000-square-foot residence set on 15 acres of private land in the secure hamlet of New Vernon, with features including a carriage apartment and pool house. Designed by WESketch Architecture, its classic "butterfly plan" provides elements of constant discovery for the observer and ensures the remarkable size remains a surprise for visitors as they make their way through it. Spaces include an oval-shaped great room, three-room wine grotto, and an English pub on the main level, the inspiration for which was derived from two copper pendants picked up on a trip in London. Bold selections of Jerusalem limestone floors, Roman-brick ceilings, cashmere wall coverings, and 13 imported fireplaces from Italy and Portugal, selected by designer Frank Delle Donne, are carefully woven throughout to portray quiet elegance. Located just 35 miles from midtown Manhattan, Beechwood is a work of art created with brick and mortar.
$22,000,000
Property ID: 5DLJ7S | klsir.com
Kienlen Lattmann Sotheby's International Realty
Jon L. Buryk 908.443.1491
LAS VEGAS
NEVADA
This is a stunning property in the MacDonald Highlands community, which offers seamless indoor/outdoor entertaining: A central great room opens to an expansive resort-style patio and pool with a swim-up bar overlooking the golf course. Another star feature is the full-size old world pub-style bar, perfect for entertaining.
Two grand primary suites and four all-inclusive guest suites give everyone ample private space. The carriage yard features climate-controlled garages to accommodate 11 cars and a recreational vehicle. This hotel-inspired villa is only minutes from the Las Vegas Strip, two airports, and an abundance of outdoor attractions.
$12,900,000
Property ID: SE4HKK | lasvegassir.com
Las Vegas Sotheby's International Realty
Isaac Moore 702.306.5866
NEW YORK CITY
NEW YORK
Over the span of a decade, Jimmy Fallon and his wife, Nancy Juvonen, combined and renovated four apartments over three floors to create an eclectic home like no other in New York City. Perched atop the southwest corner of Gramercy Park East, it celebrates the structure and architecture of that historic landmark while transforming the space into a unique home, with the original window frames, casings, and hardwood floors restored throughout.
With 4,950 square feet of space, including six bedrooms and five bathrooms, the pièce de résistance is the saloon room. This spectacular entertaining space features a custom-designed and fully equipped wet bar, with a vintage stained glass barback and a gas fire with stone hearth.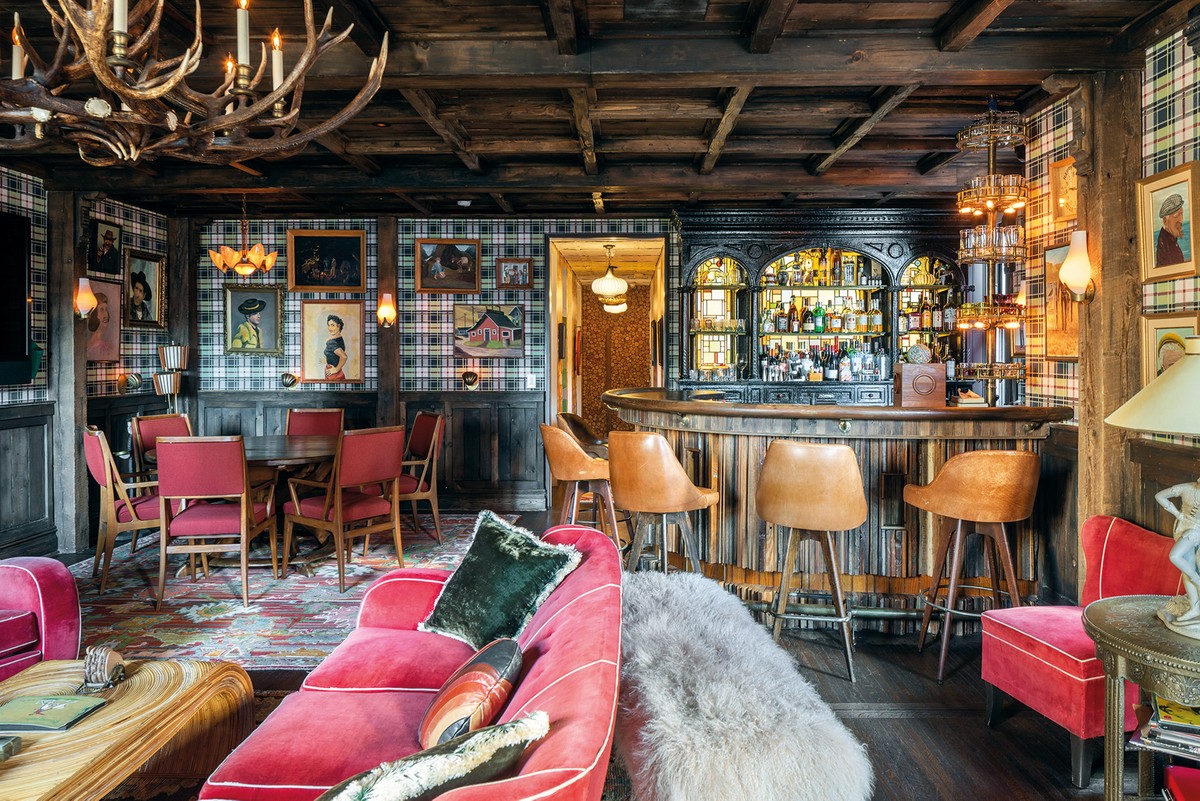 $12,500,000
sothebysrealty.com
Sotheby's International Realty – Downtown Manhattan Brokerage
Jeremy V. Stein 917.854.4411
Debbie Korb 917.701.7758
NICASIO
CALIFORNIA
A one-of-a-kind American Sukiya is available for the first time in bucolic Nicasio, West Marin. A labor of love, the estate and winery are a convergence of Japanese philosophy and California wine-country living at its finest. Consisting of a 3,000-square-foot main residence, a 2,200-square-foot guesthouse, a wine cave, a separate barn, and a 50,000-gallon spring-fed pool, West Wind Estate sits on 32 acres and serves as a functional winery. One standout feature is a 2,400-square-foot climate-controlled wine cave, the only one of its kind in Marin, that has 12-foot ceilings, a custom wine bar, an event space, and a prep kitchen ideal for catered gatherings.
$18,500,000
Property ID: MGZJ9M | goldengatesir.com
Golden Gate Sotheby's International Realty
Stephanie Lamarre and B.G. Bates 415.806.3176
COLD SPRING HARBOR
NEW YORK
Located on Long Island's famed Gold Coast in the picturesque waterfront community of Cold Spring Harbor, this estate offers resort-style living in the solitude of 6.2 acres and a beach with mooring rights, yet is within easy striking distance of New York City. Every room is designed for elegant entertaining: a palatial dining room, an elegant living room, a state-of-the-art kitchen, and an adjacent great room with stone fireplace create an effortless flow. To wind things down, decamp to the movie theater or retire to the sumptuous master suite with fireplace, sitting room, private balcony with hot tub, and a pair of indulgent master bathrooms. When the outdoors beckons, there's a pool with a slide and waterfalls, and a tennis/sports court.
$12,950,000
Property ID: 3333174 | danielgale.com
Daniel Gale Sotheby's International Realty
John Messina 516.241.0761
BOSQUES DE SANTA FE
MEXICO CITY
The use of stone, wood, and metal as the main design components add an organic harmony and subtle elegance to this property, built by architects Bernardi & Peschard, with windows that open onto a forest setting. Among its features are mafi floors and high wood-covered ceilings.
The window walls of the open-plan living space, which includes a lounge, dining room, and bar area, integrates the inside with the magnificent gardens and extraordinary views.
$4,850,000
Property ID: B7VJH5 | sothebysrealty.com
Mexico Sotheby's International Realty
Laura de la Torre de Skipsy & Mariana Méndez
52 (55)5929.5252
SUNDANCE RIDGE
ST. KITTS
The Sea for Miles estate is the embodiment of natural beauty, with views of the island of St. Kitts and the Caribbean Sea. Located in the private Sundance Ridge community on the island's southeast peninsula, the 16,000 square feet of luxury living space includes an 80-foot infinity pool and expansive outdoor covered and uncovered seating and sunken lounge areas, which extend the entertaining space from within through retractable glass doors and shutters. The wine cellar and tasting room design is reminiscent of a 1920s speakeasy.
$16,000,000
Property ID: FJY4X5 | stkittsnevissir.comm
St. Kitts & Nevis Sotheby's International Realty
Neybis Sanchez 305.904.2511
BEVERLY HILLS
CALIFORNIA
Luxury and tranquility meet in this captivating reimagined single-story four-bedroom sanctuary, situated behind private gates in Beverly Hills. Indoor-outdoor harmony is meticulously defined by the open-floor plan leading to a spacious pool and garden grounds. An artfully placed open-air glass atrium showcases a Japanese maple tree and oversized solid oak front door offering breathtaking curb appeal. The massive great room features Italian limestone flooring as well as high ceilings, both bathed in natural light from multiple skylights, and the bar area seats five.
This article originally appeared at https://www.sothebysrealty.com/eng/haute-home-happy-hours-february2022