After over two decades working in couture, Ilaria Icardi pivoted right before the pandemic. It was time, she felt, to launch her own jewelry collection that pays homage to her father, Umberto Icardi, a well-known goldsmith who died in 2016 but was renowned for Emmeti, a fine jewelry business in Valenza, Italy, that he started in the 1960s with his brothers. Emmeti manufactured pieces for such brands as Cartier and Tiffany & Co.
Ilaria Icardi, recently pivoted from couture to launch her jewelry collection, following in the footsteps of her family.
Photo Credit: Courtesy of Ilaria Icardi
It took her a few decades to return to a business she knew so well. "I grew up breathing jewelry, but I wanted to study fashion," says Icardi, who studied in Milan in the early 1990s before joining several fashion houses in an illustrious career that included top positions at Yves Saint Laurent under Tom Ford and five years at Celine. In 2013, she joined Victoria Beckham and served as design director until she decided to shift to fashion consulting alongside her burgeoning jewelry business. "The time is right for me to spend time with my father's archive and reset, redesign, and bring these jewelry memories to life," she says.
We spoke to Icardi via Zoom from her London home to discuss what it was like launching right before the pandemic, why she's drawn to designing "bold and chunky" pieces such as her lapis lazuli signet rings and spaceman pendants, and what she hopes customers will love most about her collection.
Can you tell us about starting your company right before the world shut down?
When I launched, it was four weeks before the entire pandemic started. I was like "oh my God what am I going to do now?"—this is like Thelma and Louise driving down the cliff. But my website was already live and I was so surprised, but people were very interested in jewelry during the pandemic. Once I got some press, the orders started coming in fast. And, while I couldn't travel to the factory in Italy due to the lockdowns, it helped that my younger brother, who is a gemologist, works with me, and together we found a way to manage logistics and shipping.
Since then you've launched two collections.
I have two mini collections that are very small, very focused, and made to order. I want to build up the brand because at the moment I'm only online. Being in direct communication with customers has been so amazing.
It seems very important for you to share the story behind each piece you design.
When you buy jewelry it's a lifetime investment. I've been doing a lot of engagement rings. It's such a big responsibility and you want a piece of jewelry like this to have a story behind it, you want to have something to say about it. Between my own story and my father's, I always have enough to say. Creating my collection is emotional and brings me joy. My father always wanted me to be involved with the business and I always rejected it in a way. Since he passed away, I believe this is now my way to communicate with him. I know he's looking down and smiling.
Is there one piece that connects you most to your father?
My chain is from my father's archives. It is the chain he wore all the time. I'm inspired all the time by my father's archives and all of the pieces he made for himself. I go home to my mom's house where the archives are and it's so amazing. All of the pieces are described by hand and there's a technical card for every piece. My father was meticulous about writing everything by hand.
Icardi looks into the family archives for inspiration on her unique pieces, all of which are available online only for now.
Photo Credit: Courtesy of Ilaria Icardi
How do you go about creating a piece?
I love to work in 3-D using a waxlike resin because it enables me to do things like change the proportion of a piece. Also it really helped to work this way during the pandemic. I was stuck in London and couldn't go to the factory, so this way when I was designing a ring, for example, I could wear it and see how it felt. We were sending wax rings back and forth by post and then modifying the details via Zoom.
What inspires your designs?
So many things. It can be something I see when I'm sitting on the [London Underground] to a beautiful book or an exhibition. I recently went with my daughter to the Victoria and Albert Museum to see an "Alice in Wonderland" exhibit. We ended up in another section and stayed for one hour in front of some statues. I go to the Portobello Road flea market on Friday mornings. I know lots of people there who are fantastic who are selling and dealing with vintage. I always search for vintage whenever I'm traveling.
What do you want your customers to appreciate most about your pieces?
For the first time, with my collection, I design purely for myself. This has been so different for me than working for YSL and Celine. There you have to respect the DNA of the brand.
The second thing I want people to know is that each piece has a soul. This truly is a labor of love.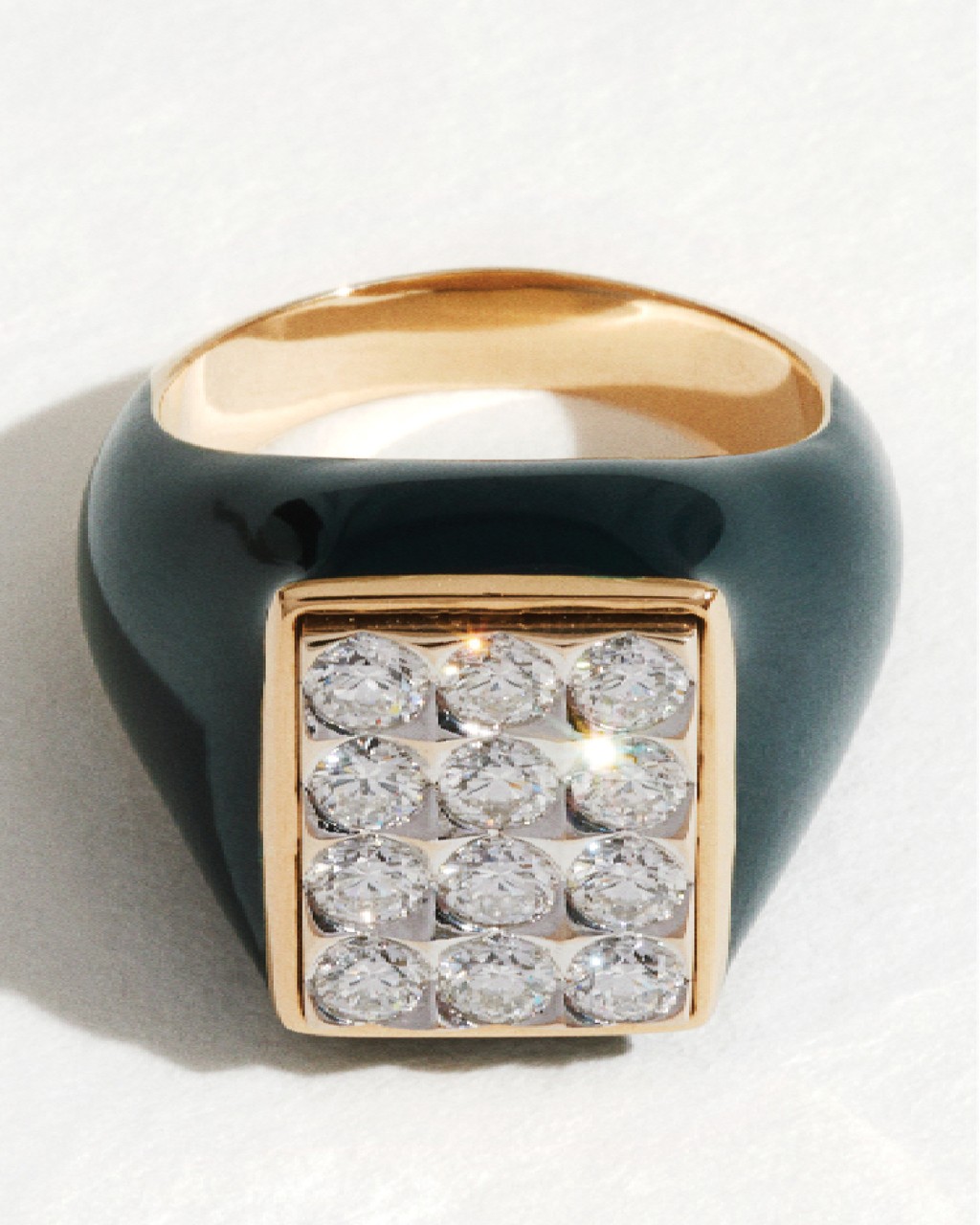 Photo Credit: Courtesy of Ilaria Icardi