O'ahu's single-family home and condo markets experienced a significant year-over-year decline in sales, falling 48.2% and 43.4%, respectively. The median sales price for a single-family home rose 9.5% to $1,149,500, while the median sales price for a condo dipped 4.0% to $480,000 compared to November 2021.
The number of single-family homes and condos sold over the original asking price dropped significantly, falling 73% and 68%, respectively. More active listings underwent price adjustments in November 2022, with approximately 46% of single-family home active listings and 36% of active condo listings experiencing a price reduction at some point during their time on the market.
Properties in both markets also spent a median of 18 days on the market year-over-year, roughly double the time on the market compared to November 2021. Although new listing volume fell in both markets, active inventory remained steady. Active inventory continued to build across O'ahu, with single-family home supply more than doubling in the Central O'ahu, the Ewa Plain, Leeward, Pearl City, and Waipahu regions compared to a year ago. The condo supply increased in all regions except Diamond Head and Pearl City.
Closed sales in both markets declined across most price points, with single-family homes in the $700,000 to $1,099,999 price range accounting for the most significant decrease, down 55% year-over-year. Condos within the $400,000 to $699,999 price range dropped by 50% compared to a year ago, although properties in the $2 million and above price range doubled. Both markets in the Ewa Plain (down 64% for single-family homes and 65% for condos) and Metro regions (down 54% for single-family homes and 43% for condos) accounted for the most significant decline in closed sales. Meanwhile, around 180 property sales closed under $500,000 in November 2022.
Considerable pockets of single-family home inventory were available at all price points, with properties in the $600,000 to $999,999 range reaching a 175% boost year-over-year. Condo supply fluctuated across price margins, although properties in the $400,000 to $1,999,999 range saw a 45% increase, and properties priced at $399,999 and below were down by 11%. Active condo listings priced above $2 million decreased by 17%.
Pending sales continued to decelerate, falling for the eighth consecutive month. Year-over-year, contract signings were down by 46.0% for single-family homes and 37.3% for condos.
Courtesy of the Honolulu Board of Realtors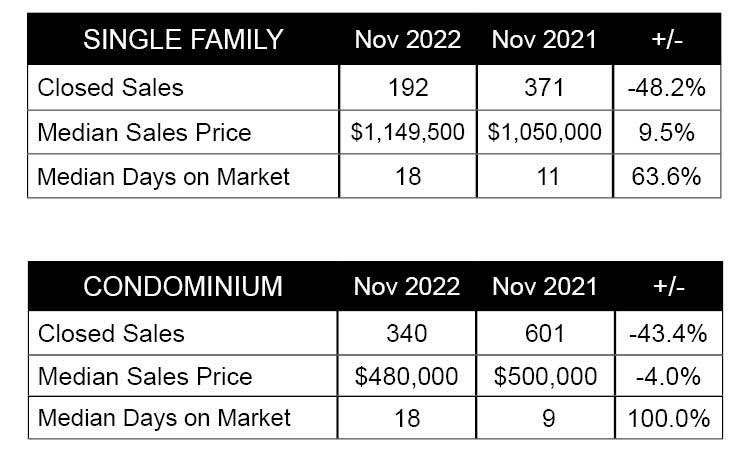 Go to Market Report Top Page >
Don't Miss Our Next Post
Subscribe Now