The Covid-19 pandemic and resulting restrictions on international travel have hindered foreign buyers from investing in overseas real estate, and as a result, domestic buyers are dominating many luxury markets around the globe. In the U.S., for instance, the National Association of Realtors found that international buyers accounted for US$54.4 billion in home sales from April 2020 to March 2021, a 27% decrease from the same period the previous year.
There have been similar shifts in Europe. In Spain, for example, the first quarter of 2021 saw a 23% drop in foreign investment from the first quarter of 2019, the Association of Spanish Land Registrars found.
Diminished competition from overseas investors—and the desire to upgrade to larger properties amid the pandemic and ongoing remote-work policies—have motivated domestic buyers to purchase luxury real estate in their home countries, according to reports.
"Italians are definitely buying more than before the pandemic," says Diletta Giorgolo Spinola, head of residential, Italy Sotheby's International Realty. "And as smart work seems to be the future, they're opting for larger apartments or properties with outdoor space."
A villa with panoramic sea views and architectural charm in the heart of Porto Rafael in Italy – Italy Sotheby's International Realty
Domestic buyers who used to invest in second homes abroad are also deciding to buy holiday homes in Italy, she says.
In Australia and New Zealand, domestic buyers are similarly driven by lifestyle factors to relocate within the country, away from large cities to more spacious homes in less densely populated regions, where they can work remotely in style.
The state of Queensland, for instance, where Covid-19 cases have been consistently low, has seen an influx of buyers from other parts of Australia. Domestic interest has been strong enough to drive up values, despite the drop-off in foreign investment.
"There has been a huge increase of people from New South Wales and Victoria wanting to move to Queensland, a northern migration like nothing we have seen before," says Tyson Clarke, senior sales executive, Queensland Sotheby's International Realty. "Those states have higher house prices, so they are selling, coming to Queensland cashed up, and driving the prices up."
Another major factor in the rising demand for luxury real estate in Australia is the return of expats seeking luxury properties in their home country. In Queensland, for instance, Australian buyers deciding to trade up have led to Brisbane's market increase for the last 12 months hitting 17%, Clarke says, where the city's normal growth is 2.5%. Melbourne, too, saw a dramatic increase in housing prices.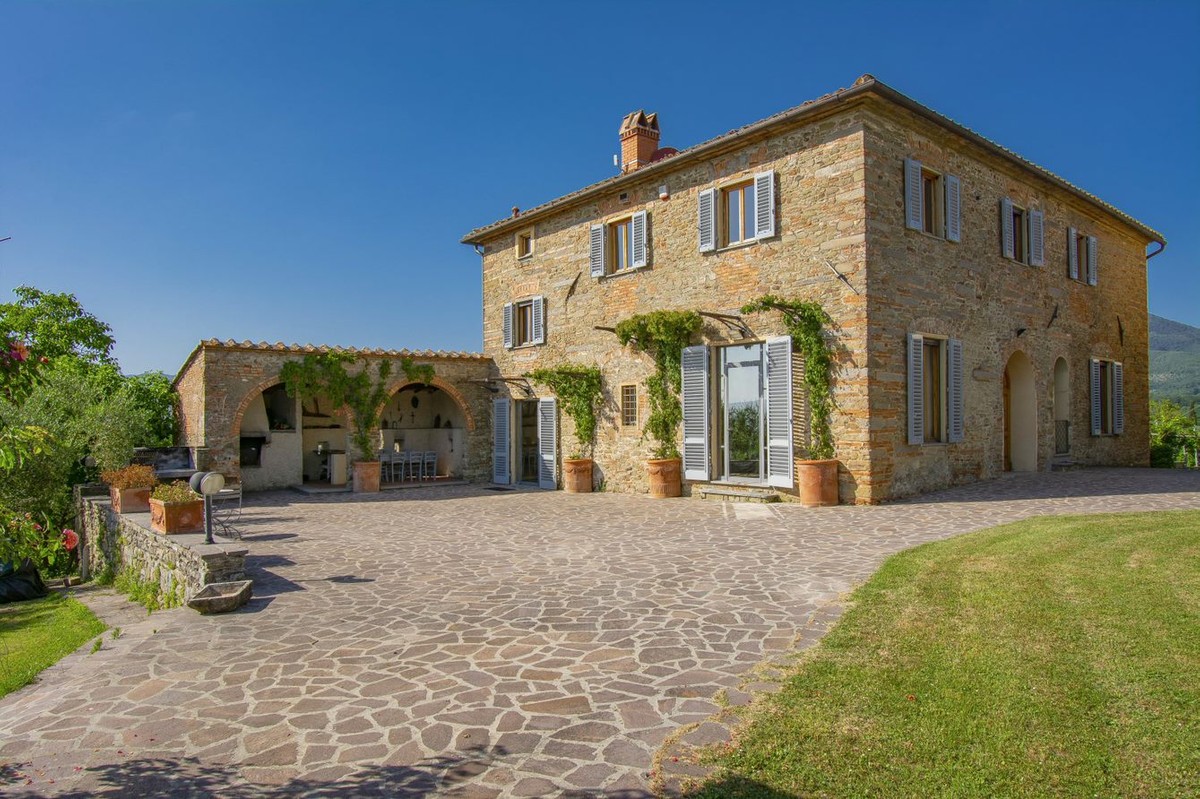 A farmhouse nestled on Italy's Tuscan hills – Italy Sotheby's International Realty
"We have seen a major reduction in overseas inquiry, and those we do see are normally expatriates looking to make a property investment," says Rob Curtain, managing director, Peninsula Sotheby's International Realty in Melbourne. "At the start of the pandemic, we had many returning and purchasing property. However, this year, most likely due to our government's extreme lockdowns, they're simply buying as longer-term investments."
In New Zealand, cheaper mortgages have helped fuel domestic demand to such an extent that the government is attempting to institute cooling measures to address the rapid price appreciation.
"There has been a noticeable increase in purchasers moving from the cities of Auckland and Wellington to lifestyle destinations in New Zealand, like Queenstown, Hawkes Bay, and Tauranga," says Mark P.A. Harris, founder and managing director, New Zealand Sotheby's International Realty. "Domestic buyers are looking for lifestyle, room to move, and easy-access areas away from the cities."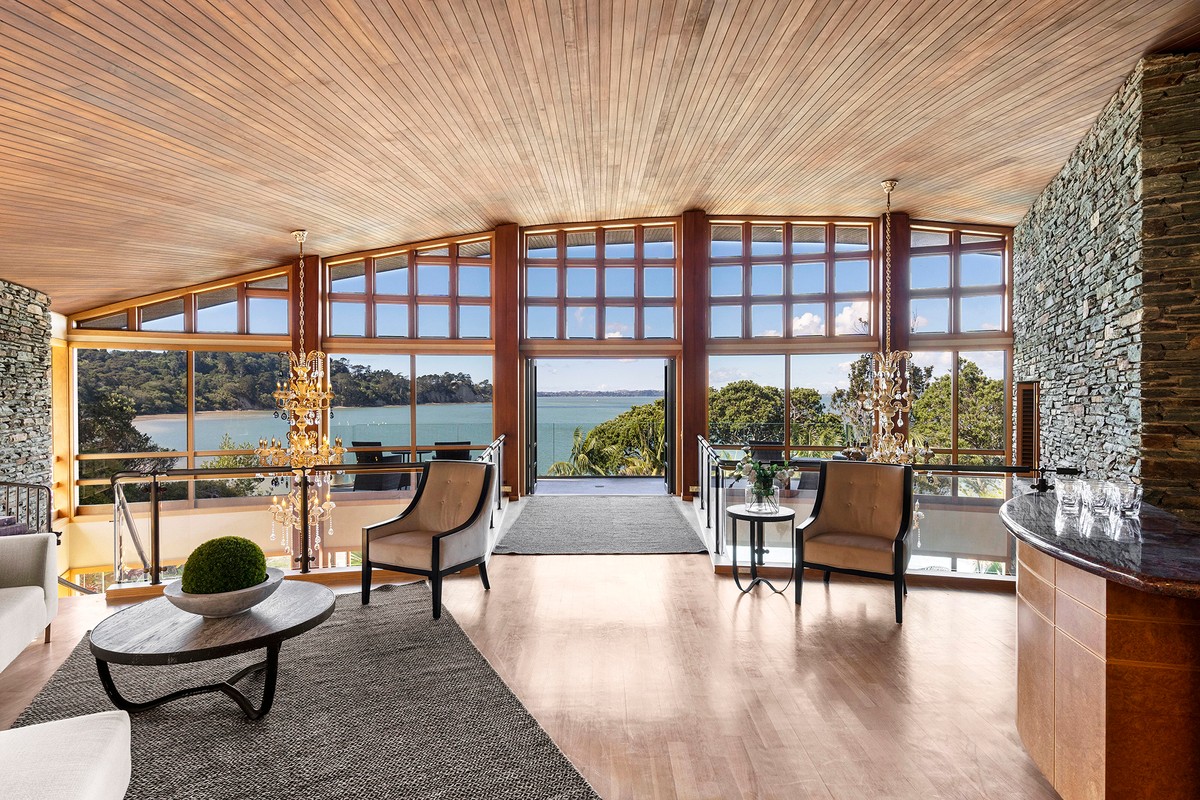 The serene setting of this home just outside Auckland, New Zealand, makes it feel fully remote – New Zealand Sotheby's International Realty
International and Domestic Buyer Outlook
The slowdown in foreign investors in many prime markets hasn't hurt the pace of transactions, nor the level of competition among domestic buyers. In the months to come, brokers say, low inventory will continue to drive up prices for local buyers.
"Inventory numbers are low, as existing owners in these lifestyle areas are holding onto their properties, so prices have been increasing substantially over the last 12 months," Harris says. "The interest in property is still very high, as there are few viable alternative-investment opportunities at present with borders still closed."
And some foreign buyers are choosing not to wait for restrictions to be lifted, and purchasing properties sight unseen. Harris estimated that there has been more than NZ$100 million worth of sales over the past year to people who haven't physically seen the properties.
While Australia and New Zealand continue to maintain particularly strict travel policies, other regions are loosening restrictions, and international buyers are expected to begin re-entering prime real estate markets—though the Omicron Covid variant has led to some uncertainty about timing. Major U.S. metro areas like New York and Miami should see a resurgence of interest from overseas real estate investors.
In Europe, some foreign investors are evading travel restrictions by chartering private planes or driving to visit their desired markets.
"We've seen more high-net-worth individuals from other countries, especially northern Europeans, come to buy as they can drive down to Italy," Giorgolo Spinola says. "The flat tax for international buyers has also helped attract them. If travel bans get lifted or become less restricted, we expect these numbers to grow."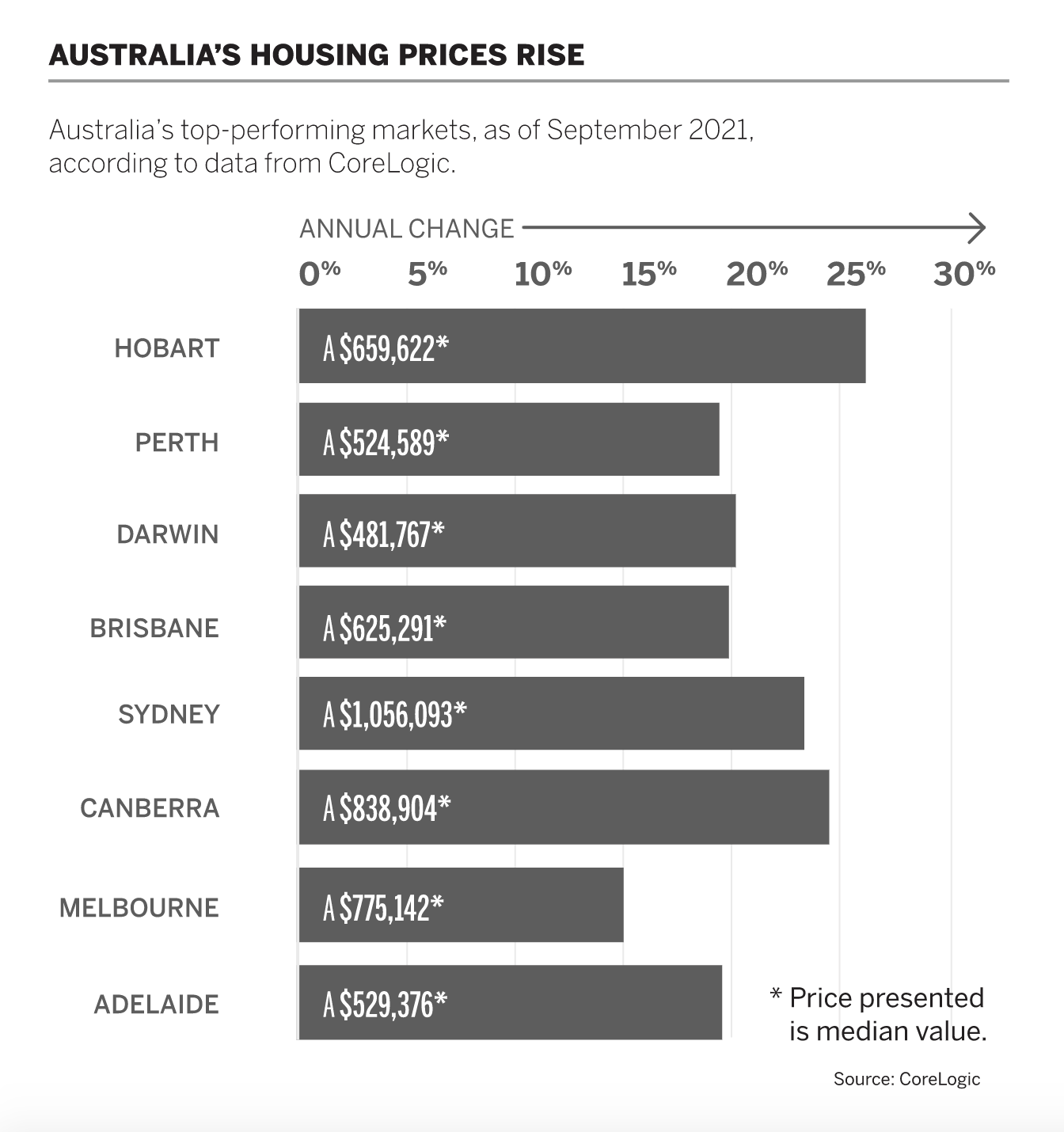 Source: CoreLogic
This article originally appeared at https://www.sothebysrealty.com/eng/domestic-buyers-dominate-these-hot-markets-but-how-long-will-it-last