Branded residences are some of the fastest-growing segments in luxury real estate—and one of the most sought after.
Hotel brands fuel the category, and, according to a recent survey, represent the vast majority of branded residences (by some accounts, more than 80%). But dozens of nonhotelier brands are expected to enter the sector by 2025—think fashion, automotive, and lifestyle.
"For non-hospitality brands, residences are a way to diversify their business model and extend customer relationships," says Oliver Essex, senior sales associate, Qatar Sotheby's International Realty in Doha. "If you're advertising the residential product, it attracts people who love the brand. It's not just about an apartment; it's about a whole experience."
Branded residences also allow brands in fashion, automotive, or even food "to expand into a lifestyle brand and cover all touchpoints for clients, whether they're existing or new customers," says Essex, exclusive representative, The Residences at St. Regis Marsa Arabia in Qatar and The Residences at The St. Regis Al Mouj, Muscat in Oman. "By offering a more diverse range, brands are trying to attract the greatest number of people."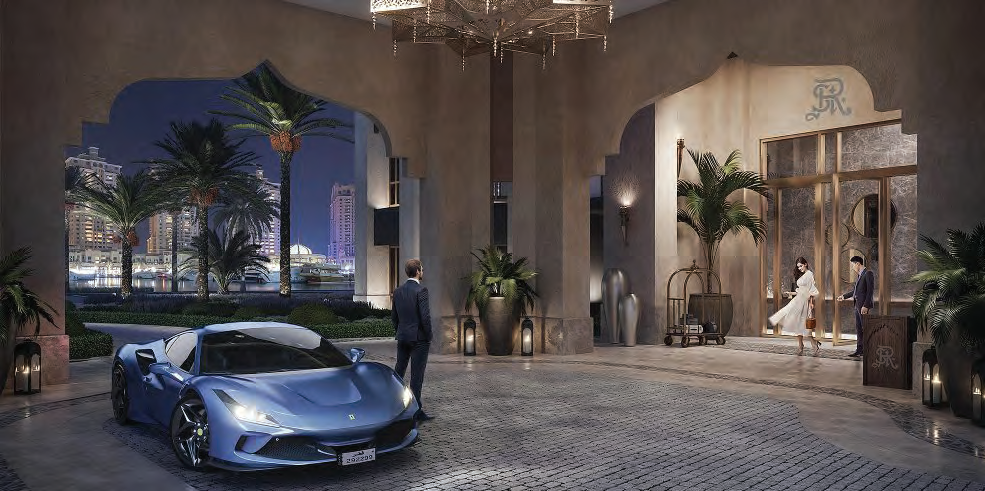 The Residences at St. Regis Marsa Arabia in Qatar
Qatar Sotheby's International Realty
There's also a practical consideration for brands that enter the residential market. "They get royalty fees from developers," says Michael Carucci, executive vice president, Gibson Sotheby's International Realty in Boston, Massachusetts. One report estimates those fees can range from 2%-5% of residential sales annually. "It's also brand awareness. They'll certainly benefit from free advertising. I love Bentleys. I drive one. Would I buy something if they did a branded residence? Yes. But you've got to follow through on the quality and consistency the brand is known for."
"Those Bentley, Aston, and Porsche towers in Miami have hit some zeitgeist nerve, because people are buying them, they're cool, and there's a novelty factor," says Chris Graham, founder of London-based luxury real estate branding consultancy Graham Associates.
With 130 brands in the branded residence market now, Graham predicts at least another 40 will enter the category "within the next three or four years. "That's new players in the market," he says. Those players may include Condé Nast, which he says has been exploring the market for some of its brands.
But "will they ever overtake hospitality branding? Probably not," Graham says.
This article originally appeared at https://www.sothebysrealty.com/eng/branded-residences-move-beyond-hotels