As companies extend remote-working options, faraway tropical paradises in the Caribbean are cementing their appeal for luxury home buyers.
Both international and local buyers in the Dominican Republic "are more open to buying these homes and spending more time there," says Sergio Llach, president, Dominican Republic Sotheby's International Realty who works primarily at the 7,000-acre, self-contained Casa de Campo resort in La Romana and the Puntacana Resort and Club, two high-end luxury resorts on the southeast coast, around 35 minutes apart from each other.
Vista Chavon, No. 9 at the Casa de Campo resort in the Dominican Republic
Dominican Republic Sotheby's International Realty
"We are the Hamptons of the Dominican Republic," he says.
"The pandemic allowed people to justify buying a home here," Llach adds. "With the ability to work remotely, now they're willing to pull the trigger."
Local Dominican buyers "now will spend a day or two extra" at their weekend/second homes in these resorts, Llach says. "Everybody these days wants an office. They want to be able to work remotely, and they want to be away from the noise of the vacation home."
Prices at the two resorts are up about 15% to 20% since the start of the pandemic, Llach says, and the number of sales is up about 25%.
The residential luxury market remains quite strong, he says, mentioning a recent seller who first listed his home for US$3.9 million, then raised it to US$4.7 million, and closed on the deal at US$4.2 million.
"The inventory we have sells faster now," Llach says. "People will pay premium prices for a home because there isn't a huge selection to choose from. It's not like it used to be."
Neil Paine, managing partner of St. Kitts & Nevis Sotheby's International Realty, agrees with Llach's assessment of the Caribbean market of late. "We are certainly seeing that people want a place where they can come and work while their family plays, so to speak."
"For new-development spaces, this is a big focus," says Paine, who opened the two islands' new St. Kitts & Nevis Sotheby's International Realty offices in July 2021. "People want a space where they can take Zoom calls, not worry about headboards being in the background, and still be out of the way of the family. We're seeing that on both the buyer and the developer side."
"Sea of Dreams," on the Cayman Islands, is a modern beachfront mansion
Cayman Islands Sotheby's International Realty
The inventory for the two islands is quite distinct, he says. "Nevis is more what I call rustic luxury, with pockets of several billionaires around the island." The Four Seasons resort on Nevis, which opened in 1991, "set the quality standard for the whole island."
St. Kitts is "more populated, with a big luxury pocket on the southeast peninsula of the island," he says.
"Most of the inventory we have is four-to-five-bedroom luxury villas," Paine says, including a five-bedroom, 16,000-square-foot villa on that southeastern peninsula of St. Kitts, listed for US$16 million.
Interestingly, the two islands run a successful path-to-citizenship program for real estate buyers and investors.
There are two price levels—US$200,000 and US$400,000—with different time frames for how long you need to hold onto the property, Paine explains. If you spend at least US$200,000 on a home, you need to hold it for seven years, and a US$400,000 home needs to be held for five years. "We've had tremendous traction on that, especially out of Asia."
As far as where St. Kitts and Nevis buyers are coming from, "we have a lot out of London and the East Coast of the U.S.," he says. New York and Miami buyers are big, and "we have a large contingent out of Toronto."
It's about a 60/40 split between North Americans and Europeans (predominantly the U.K.), with North Americans taking the larger share, Paine says.
The international buyers Llach now sees in the Dominican Republic are from the same places that he has been seeing for the last few years: Miami, New York City, Toronto, Madrid, and Switzerland.
As far as what buyers are looking for, "they are looking for properties that they don't have to do any work on," he says. "During the pandemic, they were more willing to buy homes that needed work because they wanted to buy something, and they were willing to take what was available. But in general, people don't want to have to do any work on a home. They want to move in tomorrow."
Views are quite important, Llach says. "People want to be on the ocean or they want to have ocean views. Or they want to be on a golf course. People want openness, which is what we have here."
Buyers are willing to pay over ask for premium homes that are in excellent condition, he adds.
Looking ahead to 2022, "prices are up and I think they will continue to go up, or they will at least stay very firm," Llach says.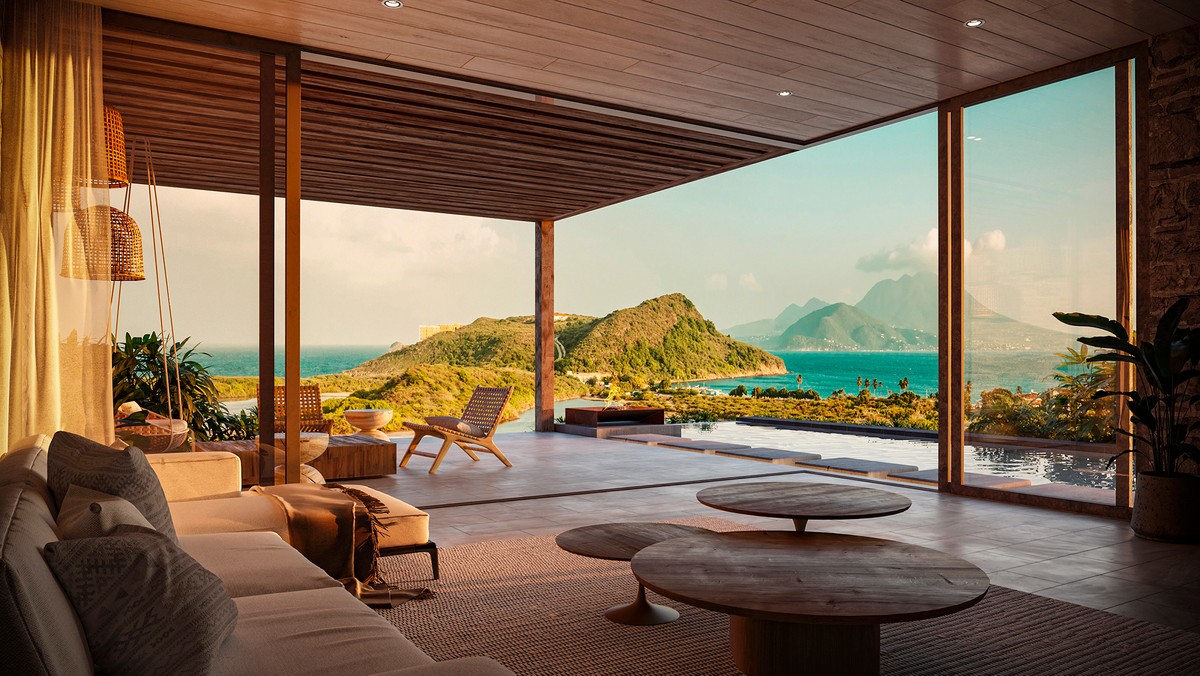 A boutique luxury resort on Cockleshell Bay, at the end of the sought-after yet untouched Southeastern Peninsula in St. Kitts
St. Kitts & Nevis Sotheby's International Realty
This article originally appeared at  https://www.sothebysrealty.com/eng/caribbean-sees-boost-from-remote-working